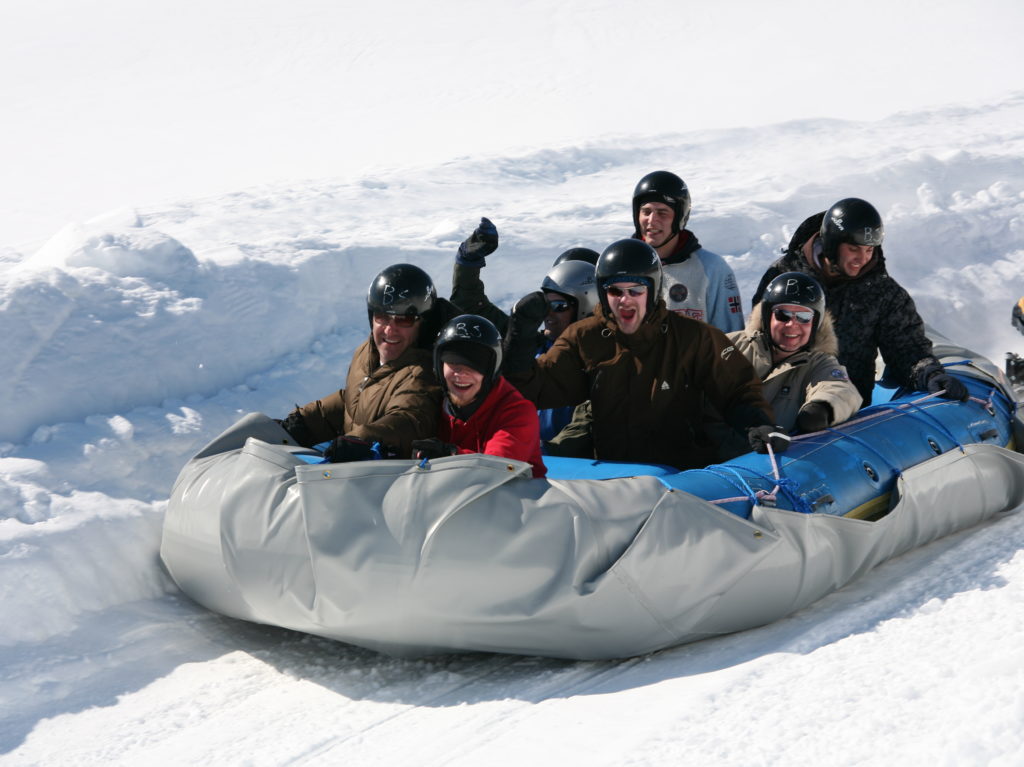 Etter at videoen av vår snowrafting har gått viralt og blitt vist langt over 10 millioner
ganger i sosiale medier, har vi fått veldig mange forespørsler.
Og flere spør om Snowrafting i Påskeferien.
Vi vil mer enn gjerne arrangere snowrafting flere ganger i løpet av påskeuken – men vi må ta et forbehold; at det fortsatt er bra nok snø i raftingbanen til at det er sikkerhetsmessig forsvarlig å kjøre der med dere.
Foreløpig ser det lovende ut, men vi kan selvsagt ikke vite hva som skjer med vær og temperatur frem mot påske.
 Vi anbefaler derfor alle som har mulighet til å melde seg på en av våre oppsatte turer i mars hvis man ønsker å være helt sikker på å få oppleve snowrafting denne
vintersesongen. (17 mars, 24 mars, 31 mars 2023) 
Påmelding på disse datoer kan gjøres direkte i kalenderen her på siden. Begrenset antall plasser. 
Grupper på mer enn 6 personer kan på forespørsel bestille snowrafting på andre dato ved
henvendelse til booking kontoret.
Snowrafting is the perfect snow activity for you and your adventures colleagues. A fun and diffrent activity. Add the extra adrenaline to the hen or birthday party. An experience a little out of the ordinary, with speed and excitement. We start with an instroduction, the instructor goes through safety and the track with everyone who wants to jump in to the boat.
Snowrafting is suitable for most people aged 7 and up. You sit on your knees in the boat all the way down the hill, we therfore do not recommed this acitivty for those with knee/back problems to join in.
The excitement of jumping into the snow-raft and setting off on the snow covered slopes has put a big smile on all the hundreds of participants who hav etaken the ride.
Remember that alpine boots are not allowed in the raft. But feel free to bring your own helmet and goggles. There are maximum of 8 people in the boat at a time.
The snowrafting track is 450 meters long. And the speed will vary depending of the weight in the boat and the snow conditions.
In the winter season we offer snowrafting on seleceted dates for drop in. Check out the booking calender. For groups more than 6 people you can book the activity as a private group any day of the week.
Contact us for group prices 20 people or more
For groups 20 or more, please contact us for offers and packages.