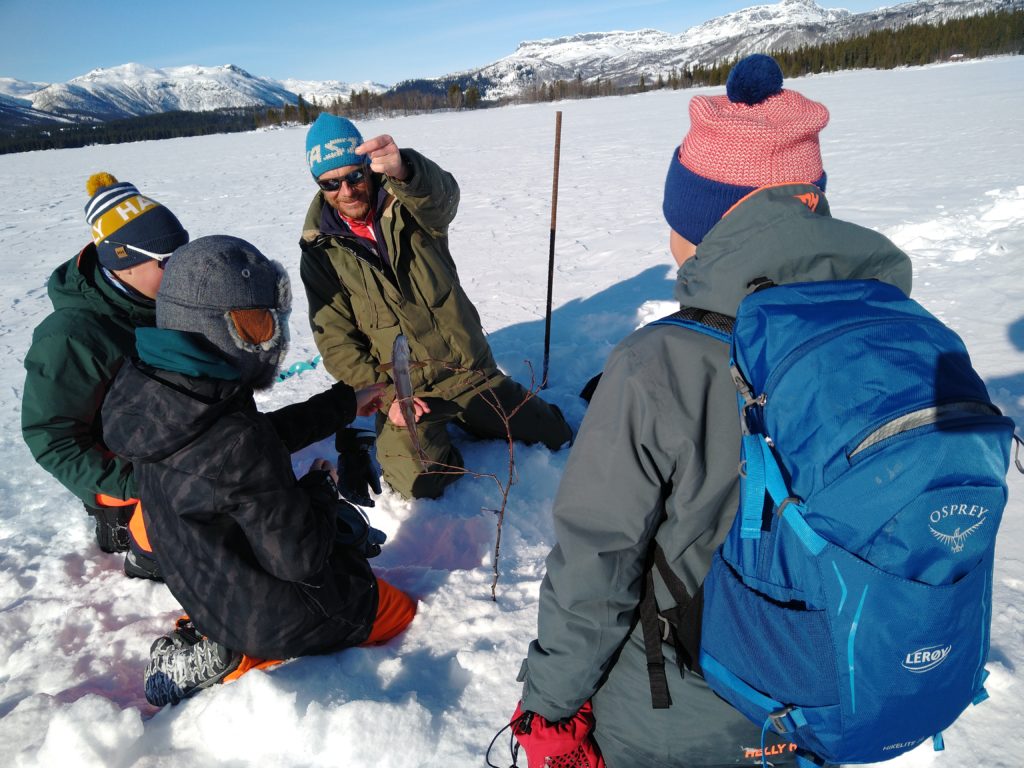 Our knowledgeable fishing guides are here to give you a great introduction to Ice Fishing. They will teach you the skills you need to catch a fish in one of Beitostølen's frozen lakes. If you are lucky you will catch your own trout and be able to take it home to make a yummy dinner! Ice fishing takes place at the Beitostølen camp on the frozen water at Øyangen, and other forzen lakes near Beitostølen. Depending on conditions, if there is a lot of snow, we use snowshoes out on the ice, which will be provided to guests. Beitostølen Aktiv & Ski School will supply you with all of the necessary equipment, but remember to bring good shoes and warm clothes.
Ice fishing with a guide on Fridays
Ice fishing is an old fishing method where fishermen catch fish with line and hook through an opening in the ice. Ice fishing is suitable for young and older fishermen and women. To make holes in the ice, we use a large ice drill. We offer ice fishing on Fridays in the winter season. For avalible dates and tickets, please see the booking calender.
Down to the right 
In the winter season, we also offer ice fishing for private groups and families. The guide shows you how we drill holes through the ice. In Øyangen lake we fish for mountain trout. Enjoy the surroundings and find peace with a view of snow-capped mountains.
For groups of more than 10 people, please contact us directly by telephone or email